Young Kyrgyz and Uzbek stars dazzle in Abdykalykov tournament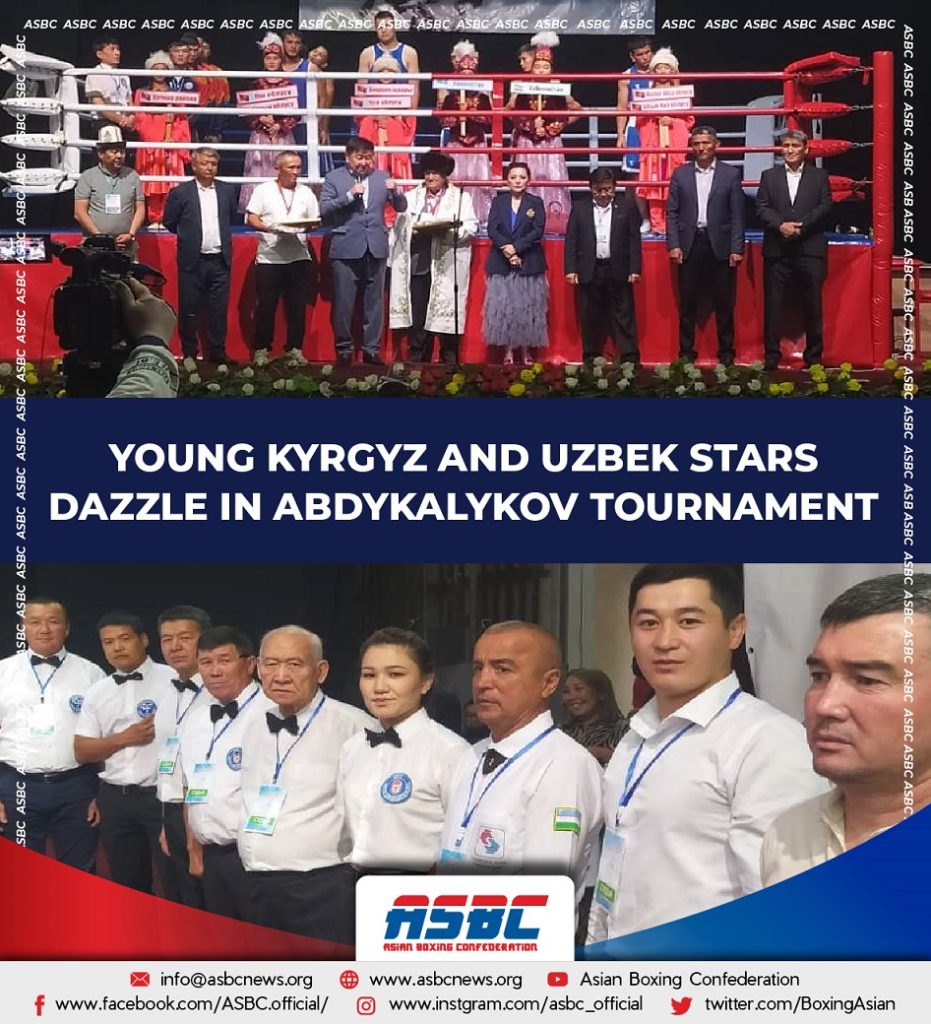 Up-and-coming young fighters from Kyrgyzstan and Uzbekistan reigned supreme in the Nurlan Abdykalykov Tournament held recently in the Kyrgyz village of Kochkor.
Eleven Under-22 standouts emerged atop their respective weight divisions in the tourney named in honor of one of the host country's top boxers in the 1980s.
Among them was Kyrgyzstan's Sultan Asankul Uulu, who competed in the AIBA Youth World Boxing Championships 2018, as the 21-year-old star took down youth national champion Eldar Turdubayev in the light middleweight (71kg) division.
Reigning ASBC Asian U22 gold winners Ruslan Abdullayev (light welter-63.5kg), Jasurbek Yuldashev (light heavy-80kg) and Timur Merjanov (cruiser-86kg) also stamped their class in the tourney.
Meanwhile, Kyrgyzstan's 31-year-old international veteran Mirlan Turkbay Uulu utilized his experience to beat Uzbekistan's 19-year-old Asian U22 champ Mukhammadkodir Mamirjonov in the flyweight (51kg) final.
All in all, the Kyrgyz boxers snagged seven titles while the Uzbeks went home with the other six gold medals.
List of winners in the Nurlan Abdykalykov Tournament


48kg: Shodiyor Melikuziev, Uzbekistan

51kg: Mirlan Turkbay Uulu, Kyrgyzstan


54kg: Dilshod Abduvaliyev, Uzbekistan


57kg: Samandar Kholmurodov, Uzbekistan

60kg: Ilyas Ishengaziyev, Kyrgyzstan


63.5kg: Ruslan Abdullayev, Uzbekistan

67kg: Ikhtiyor Nishonov, Kyrgyzstan

71kg: Sultan Asankul Uulu, Kyrgyzstan

75kg: Daniel Abdrakhmanov, Kyrgyzstan


80kg: Jasurbek Yuldashev, Uzbekistan


86kg: Timur Merjanov, Uzbekistan

92kg: Bakyt Toktosun Uulu, Kyrgyzstan

+92kg: Bekbolsun Toktosun Uulu, Kyrgyzstan
Don't forget you can keep up with all of the action, news, results and photos by following ASBC on Facebook and Instagram.
ASBC website: www.asbcnews.org
ASBC Facebook page: https://www.facebook.com/ASBC.Boxing/
ASBC Instagram page: https://www.instagram.com/asbc_official/
ASBC Twitter: https://www.twitter.com/BoxingAsian?s=08