Two-time Olympian Chinzorig won the bout of the finals at the Mongolian National Championships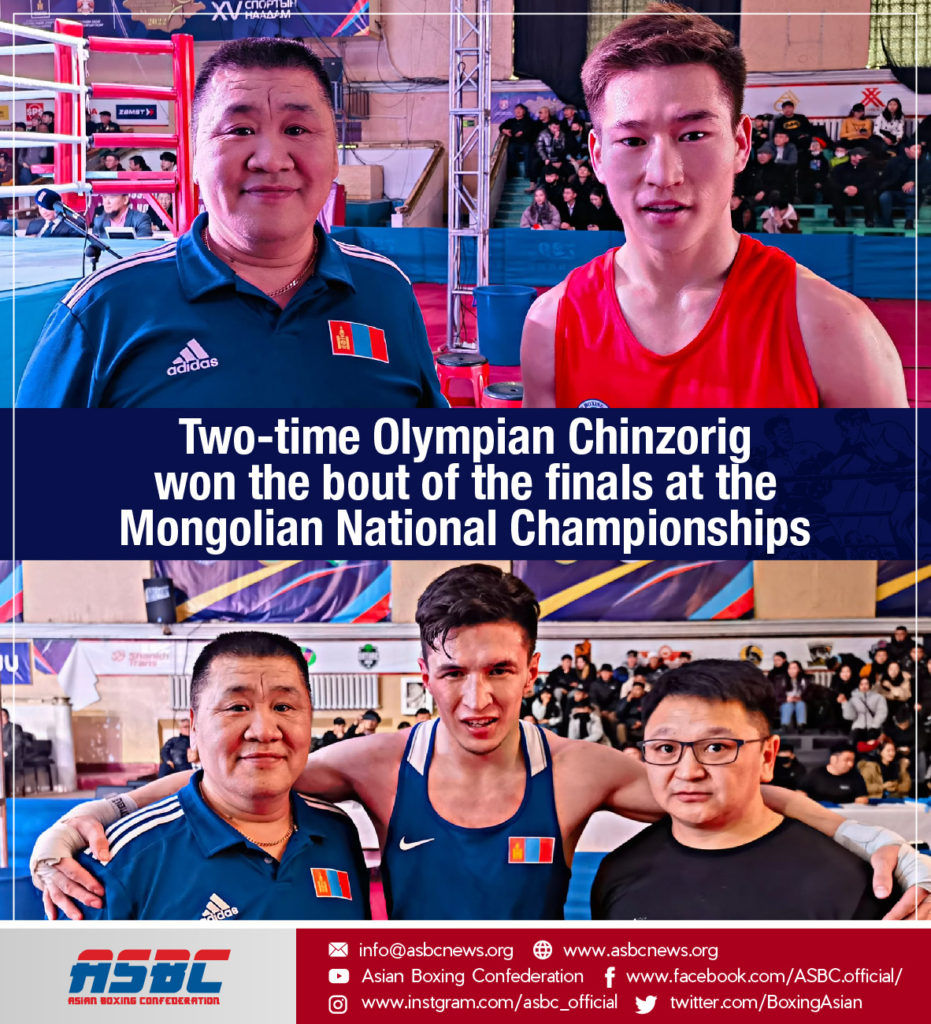 Out of the 128 participating boys, 13 boxers won the gold medals in the Mongolian Elite National Championships. Two-time Olympian Chinzorig Baatarsukh won the most exciting and closest male finals in the national event.
The Mongolians competed successfully at the ASBC Asian U22 Boxing Championships in Bangkok, Thailand in January and all of their talents including their veterans participated in the National Championships in Ulaanbaatar. The male boxers could participate in all of the 13 weight classes from the minimumweight (48kg) up to the super heavyweight (+92kg).
Mongolia's top star, the two-time ASBC Asian Champion and Asian Games winner Erdenebat Tsendbaatar returned to the event and won his preliminary bout at the lightweight (60kg) but he was unable to compete in the quarter-final.
Veteran, former Asian Games and ASBC Boxing Championships medallist Gan-Erdene Ganzorig returned to the competitions and participated at the minimumweight (48kg) in the National Championships. The 30-year-old former Olympian suffered a loss in the final to a younger rival, Orkhontungalag Unubold who robbed into the world of boxing in Dubai two years ago.
The ASBC Asian Elite Boxing Championships bronze medallist Enkhmandakh Kharkhuu was the main favourite at the men's flyweight (51kg) and he accomplished his objective after beating Lkhagvadorj Davaadorj in the final. The men's bantamweight (54kg) was the busiest weight class with the participation of 18 boxers in the National Championships and the Seed No.1 Dorjnyambuu Ganbold defeated Bilguunsaikhan Kharkhuu in the final.
The third Kharkhuu brother, the 2021 ASBC Asian Elite Champion Enkh-Amar met for the title another ASBC medallist, a top U22 boxer, Gantumur Lundaa at the featherweight (57kg) and he used up his routine to beat the younger talent. The ASBC Asian U22 Boxing Championships bronze medallist Enkhtur Tugsjargal won the lightweight (60kg) following his success over Buyandalai Bayarkhuu in the final.
The 2021 ASBC Asian Elite Champion and two-time Olympian Chinzorig Baatarsukh moved back to the light welterweight (63.5kg) and he had a tough but successful battle against Byambatsogt Tuguldur in the final. ASBC bronze finisher Battumur Misheelt was the favourite at the welterweight (67kg) and he stopped all of his opponents in Ulaanbaatar.
Byamba-Erdene Otgonbaatar dominated the light middleweight (71kg) final against Sainchuluun Javkhlanbayar before the former Asian Games bronze medallist Jargal Otgonjargal defeated Jandos Askhar at the middleweight (75kg). Ganzorig Dalai (80kg) and Beknur Khali (+92kg) both returned to the competitions with gold medals.
The list of the winners at the Mongolian Men's Elite National Championships

48kg: Orkhontungalag Unubold

51kg: Enkhmandakh Kharkhuu

54kg: Dorjnyambuu Ganbold

57kg: Enkh-Amar Kharkhuu

60kg: Enkhtur Tugsjargal

63.5kg: Chinzorig Baatarsukh

67kg: Battumur Misheelt

71kg: Otgonbaatar Byamba-Erdene

75kg: Jargal Otgonjargal

80kg: Ganzorig Dalai

86kg: Purevdorj Myagmarbat

92kg: Dorj Bariakhaan

+92kg: Beknur Khali
Don't forget you can keep up with all of the action, news, results and photos by following ASBC on Facebook and Instagram.
ASBC website: www.asbcnews.org
ASBC Facebook page: https://www.facebook.com/ASBC.Boxing/
ASBC Instagram page: https://www.instagram.com/asbc_official/
ASBC Twitter: https://www.twitter.com/BoxingAsian?s=08