Tokyo Olympians – Chinese Taipei's young technical boxer Wu Shih Yi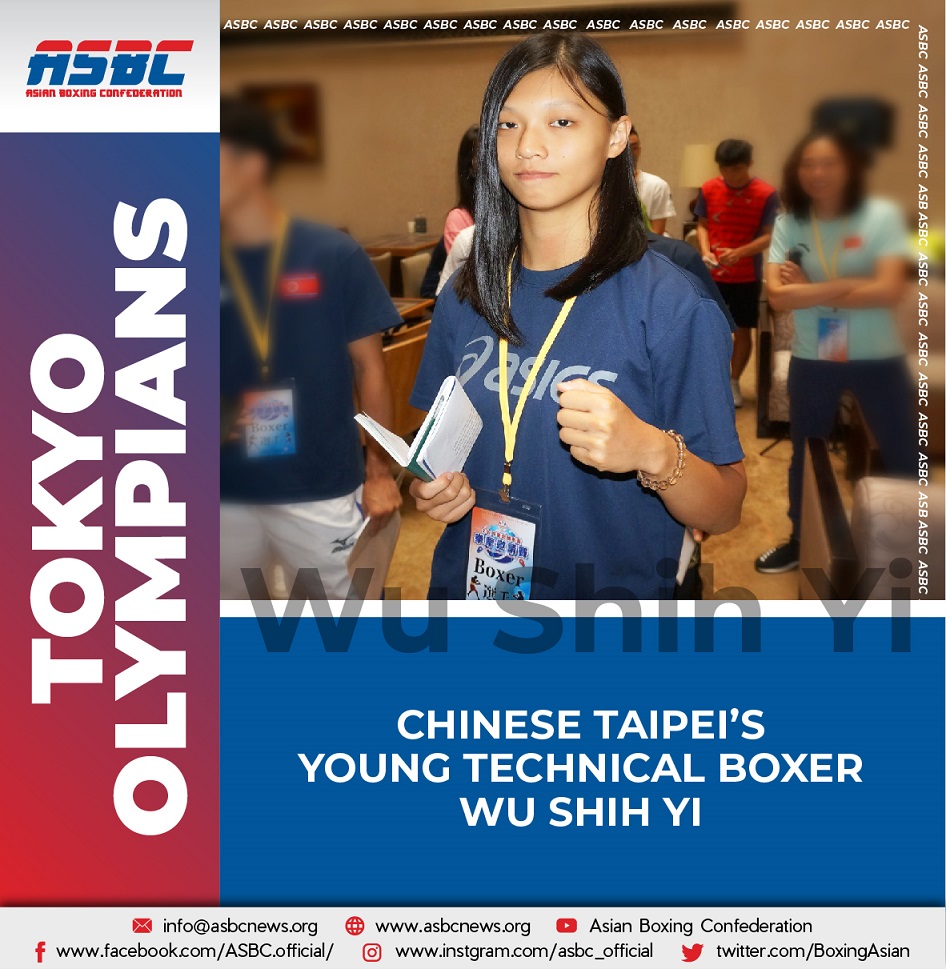 The Tokyo Olympic Games is ahead of us the re-scheduled event will be held in Japan between July 23 and August 8. The Asian Boxing Confederation introduces our quota holders firstly the women boxers who qualified already to Tokyo through the Asian & Oceanian Olympic Boxing Qualifying Event which was held in Amman, Jordan on March 2020.
Chinese Taipei's Wu Shih Yi was born in the city of Taipei on April 27 in 1998 and began her boxing career at the age of 13. Her coach is Mr. Lai Ming Hui at the National Taiwan Sport University where she trains around 20 hours per week. Her boxing idol is Chinese Taipei's most experienced national team member, Pin Meng Chieh while she likes to watch movies and eat salmon quiche as her favourite.
Wu won her first event, the Chinese Taipei Women's Junior High School President's Cup in 2012 where she boxed at the bantamweight (54kg). She competed at the 2013 AIBA Women's Junior World Boxing Championships in Albena and at the 2015 AIBA Women's Youth World Boxing Championships in Taipei but on both occasions she lost to a Russian boxer, Umeda Saidova.
She was involved to the elite national team in 2017 and proved impressive developments at the Ho Chi Minh City 2017 ASBC Asian Women's Boxing Championships where she lost to China's star Yang Wenlu but only by split decision and the 19-year-old talent amazed the experts. She claimed silver medal at the Ulaanbaatar Box Cup in Mongolia next year and she was member of Chinese Taipei's national team at the Asian Games.
Following her great debut at the AIBA Women's Elite World Boxing Championships, Wu Shih Yi exceeded the expectations in the Bangkok 2019 ASBC Asian Elite Boxing Championships where she advanced to the final. She defeated three strong opponents in Thailand's capital and lost to only China's Yang Wenlu on their re-match.
Chinese Taipei sent a powerful woman team to the Asian & Oceanian Olympic Boxing Qualifying Event to Amman, Jordan one year ago. Four out of their five girls have qualified for the Tokyo Olympic Games including Wu Shih Yi. She eliminated in her key quarter-final Philippines' Riza Pasuit and qualified for the Games despite of her loss in the semi-final to India's Simranjit Kaur Baath.
Personal biography
Name: Wu Shih Yi
Country : Chinese Taipei
Gender : Woman
Date of birth : 27/04/1998
Height : 172cm
Weight category : 60kg
Residence : Taipei
Stance : Orthodox
Best achievements:
2020 – Asian & Oceanian Olympic Boxing Qualifying Event (Amman, JOR) – Bronze
2019 – ASBC Asian Women's Boxing Championships (Bangkok, THA) – Silver
2018 – Ulaanbaatar Box Cup (Ulaanbaatar, MGL) – Silver
Don't forget you can keep up with all of the action, news, results and photos by following ASBC on Facebook and Instagram.
ASBC website: www.asbcnews.org
ASBC Facebook page: https://www.facebook.com/ASBC.Boxing/
ASBC Instagram page: https://www.instagram.com/asbc_official/
ASBC Twitter page: https://www.twitter.com/BoxingAsian?s=08