The top Kyrgyz elite and youth boxers train in Taraz to reach their goals in August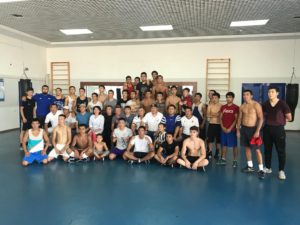 The Kyrgyz boxing team has been preparing to the Jakarta 2018 Asian Games and also to the Budapest 2018 AIBA Youth World Boxing Championships in the same venue. Kyrgyzstan's elite and youth squads train with Dzhambul region's boxing team in the city of Taraz in Kazakhstan from August 1 until the 12th.
The head coach of the Kyrgyz boxing team Mr. Daniyar Jusubaliev leads the training sessions in Taraz which is a perfect place with top sparring partners for them before the start of the Asian Games. Kyrgyzstan claimed one bronze medal in the last edition of the Incheon 2014 Asian Games and their management is planning to do it better in Jakarta.
The boxing tournament of the Asian Games will be starting with its first competition day on August 24 and Kyrgyzstan registered two women and six men boxers to the event. Their top female boxer Farida Pupova is only 21 but she has been training fanatically to reach the level of the best Asian woman athletes at the lightweight (60kg).
Azat Usenaliev was gold medallist in the Amman 2013 ASBC Asian Confederation Boxing Championships and after a few average years the Kyrgyz flyweight (52kg) No.1 returned to the boxing world in top shape this year. Usenaliev won a few preparation events and he is waiting for the start of the Asian Games in top shape.
Mirlan Turkbay Uulu is an experienced boxer at the light flyweight (49kg) who won more than 80% of his international contests in the recent one and half year. Umakhanov Memorial Tournament winner 23-year-old Sirodjiddin Abdullaev has got the same strong statistics in the international stage since 2016.
ASBC Asian Confederation Youth Boxing Championships bronze medallist Munarbek Seyitbek Uulu (60kg), Bek Kamchybekov (64kg) and Abdurakhman Abdurakhmanov (69kg) are among the new waves of Kyrgyz boxing. Kamchybekov has been attending in the international level since 2011 in spite of his young age and has got potential to make surprises in Jakarta. Kamchybekov and Abdurakhmanov both won the prestigious Rafael Vakhitov Tournament in Kazakhstan this year.
Five boxers from Kyrgyzstan will be attending at the AIBA Youth World Boxing Championships in Budapest from August 21 where former Asian Boxing Championships silver medallist Mr. Kenzhebek Akelbayev will be leading their team in Hungary. The five-strong Kyrgyz youth team has got the potential to reach good results and do sensations in Budapest this month.
Sultan Asankul Uulu (49kg), Children of Asia Games bronze medallist Sanzhai Seidakmatov (56kg), ASBC Asian Confederation Junior Boxing Championships silver medallist Umar Kubanychbek Uulu (60kg), ASBC Asian Confederation Youth Boxing Championships bronze medallist Nuradin Rustambek Uulu (69kg) and ASBC Asian Confederation Junior Boxing Championships bronze medallist Akhmed Usupov (+91kg) will be attending in Budapest.
The Kyrgyz team in the upcoming Jakarta 2018 Asian Games:

Women's 57kg: Shakhriza Khalilova

Women's 60kg: Farida Pupova

Men's 49kg: Mirlan Turkbay Uulu

Men's 52kg: Azat Usenaliev

Men's 56kg: Sirodjiddin Abdullaev

Men's 60kg: Munarbek Seyitbek Uulu

Men's 64kg: Bek Kamchybekov

Men's 69kg: Abdurakhman Abdurakhmanov
The Kyrgyz team in the Budapest 2018 AIBA Youth World Boxing Championships:

Men's 49kg: Sultan Asankul Uulu

Men's 56kg: Sanzhai Seidakmatov

Men's 60kg: Umar Kubanychbek Uulu

Men's 69kg: Nuradin Rustambek Uulu

Men's +91kg: Akhmed Usupov
Don't forget you can keep up with all of the action, news, results and photos by following ASBC on Facebook and Instagram.
ASBC website: www.asbcnews.org
ASBC Facebook page: https://www.facebook.com/ASBC.Boxing/
ASBC Instagram page: https://www.instagram.com/asbc_official/