The four stars of the light heavyweight joined the semi-finals at the Kazakhstan National Spartakyad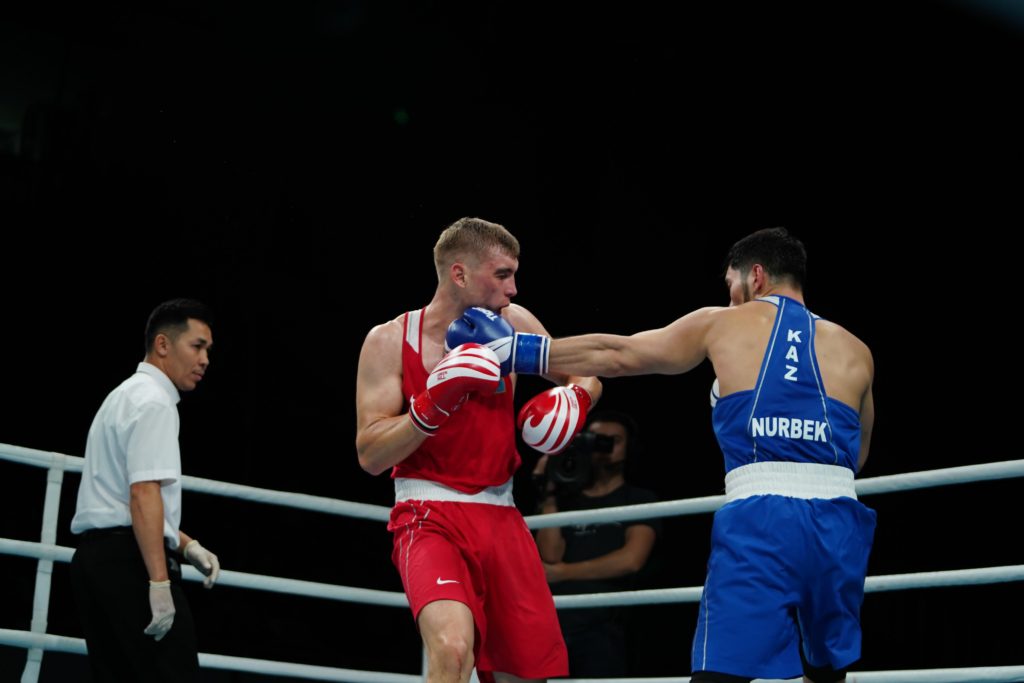 The four stars of the light heavyweight (80kg) marched into the semi-finals at the Kazakhstan National Spartakyad in Astana and their meetings are the most anticipated part of the competition.
The event is one of the selection competitions for the upcoming 1st World Olympic Boxing Qualifying Event which will be starting in Busto Arsizio, Italy on February 29. The Kazakhstan National Spartakyad holds in all of the 13 male weight categories but the seven Olympic divisions are the most important in this event in Astana.
Saken Bibossynov earned a bronze at the Tokyo Olympics and he became World Champion in the same year in 2021 but he could not qualify for the Paris Olympic Games yet. The experienced boxer eliminated Gabbas Duisekenov of Pavlodar region in the quarter-finals of the flyweight (51kg) and he joined the last four. His main rivals such as the Asian silver medallist Daniyal Sabit and the minimumweight (48kg) World Champion Sanzhar Tashkenbay also advanced to the semi-finals.
Shymkent's World Champion Makhmud Sabyrkhan dominated all of the three rounds against Almaty's Dulat Turlybekuly and he is now a semi-finalist at the featherweight (57kg). The 22-year-old boxer is aiming for the gold medal in Astana and his next rival will be a Youth silver medallist, Yerbolat Sabyr of Pavlodar region in the semi-finals.
Serik Temirzhanov, the pride of the Pavlodar region, moved up to the light welterweight (63.5kg) and despite that he is new in the category, he is the favourite for the gold medal. The World silver medallist Kazakh was too strong for a younger hopeful, Aitzhan Ashirkhan and he will now meet in the semi-finals Zhandos Kydyraliev. The next generation's bests from the 2002 age group, Yerassyl Tankay and the ASBC Asian Youth Champion Mukhammedsabyr Bazarbay Uulu both secured their places in the semi-finals.
The light middleweight (71kg) is strong despite the absence of Aslanbek Shymbergenov and four technician boxers advanced to the semi-finals in Astana. The Youth World Champion Sabyrzhan Akkalykov, Almaty's Farukh Tokhtasunov, Darkhan Duisebay and the returning Youth Olympics silver medallist Talgat Shayken are the semi-finalists in this weight class.
The light heavyweight (80kg) is one of the strongest categories in the entire Spartakyad where four stars joined the semi-finals. The defending World Champion Nurbek Oralbay, the 2019 World Champion Bekzat Nurdauletov, the Asian Champion Tursynbay Kulakhmet and Yerassyl Zhakpekov all won their quarter-finals in Astana and now they will meet each other in the final phase of the competition.
The two favorites of the heavyweight (92kg), Aibek Oralbay of Astana and Sagyndyk Togambay of the Turkestan region both dominated their quarter-finals in the Spartakyad. Oralbay, the 2022 ASBC Asian Champion, was too strong for Zhasulan Omar while Togambay eliminated Nurmagomed Yusupov in the last eight.
Don't forget you can keep up with all of the action, news, results and photos by following ASBC on Facebook and Instagram.
ASBC website: www.asbcnews.org
ASBC Facebook page: https://www.facebook.com/ASBC.Boxing/
ASBC Instagram page: https://www.instagram.com/asbc_official/
ASBC Twitter: https://www.twitter.com/BoxingAsian?s=08