Pin Meng Chieh and the South Koreans started strongly in the Taipei City Cup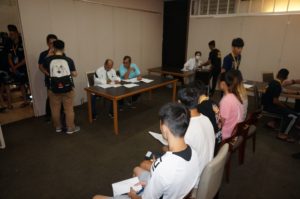 The Taipei City Cup is a strong international competition which began in the capital city of Chinese Taipei and the opening two sessions are already done in the event. Chinese Taipei's Pin Meng Chieh started strongly at the women's flyweight (51kg) and the South Korean male boxers also won their key contests in Taipei.
The Taipei City Box Cup was launched in 2011 and gave chance for the elite female and male boxers to raise their international experiences in a friendly event. Australia, China, DPR Korea, Hong Kong, Japan, Kazakhstan, South Korea, Malaysia, Mongolia, New Zealand, Philippines, Singapore and Russia also sent boxers to Taipei City in the recent editions and many of them returned to the event this year.
Chinese Taipei's Pin Meng Chieh was quarter-finalist in the Jeju 2014 AIBA Women's World Boxing Championships and this time she attends at the flyweight (51kg). The 32-year-old experienced boxer used her virtuoso technique to keep the safest distance against Russia's Anna Poskrebysheva. She was a hard target for the younger Russian and won their contest by split decision which was one of the bouts of the session.
Russia's Alena Bashmakova also received the right to attend in the Taipei City Box Cup and started the event strongly against Hong Kong's Hoi Ying Lam. The Russian boxer needed only 132 second to win the bout when the referee confirmed her RSC success at the women's bantamweight (54kg) but it was Hong Kong's amazing comeback in women's boxing to Asia's boxing life.
Wang Shaofeng is a 20-year-old Chinese talent who had to meet against her teammate Ye Yuxin at the women's bantamweight (54kg). Wang tried to use her energetic style from the first seconds but Ye was also able to adopt the rhythm of their contest in Taipei. The final verdict was split decision in the favour of Wang whose stamina was impressive in the opening session of the event.
Chinese Taipei's 21-year-old Chen Po Yi is a promising national team member boxer who had a few good international results already. Chinese Taipei's former ASBC Asian Youth Boxing Championships competitor dominated the first and second rounds against Hong Kong's Chong Man Tang at the men's bantamweight (56kg) before the referee stopped their contest in Taipei City.
South Korea's Kwak Bum Seo had a hard opponent as first as he had to box against Malaysia's ASBC Asian Youth Boxing Championships quarter-finalist 18-year-old Muhammad Rasdenal Haikal in a top light flyweight (49kg) bout. Kwak used up his previous experiences to beat the Malaysian teenager and advanced to the next stage. Another South Korean boxer Jang Byeong Hee controlled his fight over New Zealand's Sam Burdett at the light welterweight (64kg).
Don't forget you can keep up with all of the action, news, results and photos by following ASBC on Facebook and Instagram.
ASBC website: www.asbcnews.org
ASBC Facebook page: https://www.facebook.com/ASBC.Boxing/
ASBC Instagram page: https://www.instagram.com/asbc_official/