Mr. Yousuf Ali Al-Kazim – The first edition of the Asian Schoolboys Boxing Championships is the success of ASBC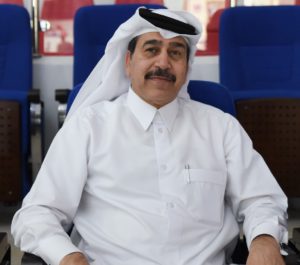 President of the Qatar Boxing Federation Mr. Yousuf Ali Al-Kazim is the Vice-President of the Asian Boxing Confederation who is also member of the AIBA Executive Committee. Mr. Al-Kazim followed the semi-finals of the ASBC Asian Schoolboys Boxing Championships from the venue and shared his impressions about the historical event.
"I am seriously satisfied with the level of the ASBC Asian Schoolboys Boxing Championships in Kuwait City and the environments are also good here. Some of them look like real men and I had the impression that few of the contests could be elite matches in spite of the real age of these 13 and 14-year-old boxers.
The 2022 Youth Olympic Games is one of our next important step and this generation of future hopes could be the Asian sensations in three years. Altogether 150 boxers are attending in the first edition which means for me that ASBC is worked well and this is the success for our Confederation.
Kazakhstan and Uzbekistan are always strong in all of the age groups but the Indian talents with their fighting spirit also amazed me in this event. China, Mongolia, Japan, South Korea are not here unfortunately due severe reasons but we have many strong boxers in Kuwait City which show our potential for the future.
We were not able to join with Qatar team this time because of our boxers did not have time to prepare well after their school examinations. Doha 2006 Asian Games bronze medallist Hzam Nabah was member of the national team many years but now he joined to our coaching staff to support the new generation of boxers in Qatar.
Among the upcoming 2019 ASBC events Qatar will be there in the ASBC Asian Youth Boxing Championships and in the ASBC Asian U22 Boxing Championships, furthermore in the AIBA World Boxing Championships in Russia.
I have been involved to the military sport and the boxing tournament of the upcoming World Military Games will be also a big challenge for us in China. The Test Event of the World Military Games was amazing and I am looking forward the main competition which will be held in October," summarized ASBC Vice-President Mr. Yousuf Ali Al-Kazim in the venue of the ASBC Asian Schoolboys Boxing Championships.
Don't forget you can keep up with all of the action, news, results and photos by following ASBC on Facebook and Instagram.
ASBC website: www.asbcnews.org
ASBC Facebook page: https://www.facebook.com/ASBC.Boxing/
ASBC Instagram page: https://www.instagram.com/asbc_official/