Mr. Bernard O'Neill – Mr. Serik Konakbayev is the bridge between Asia and Europe while the Asian boxers proved superb performances in 2017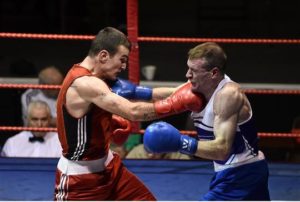 Mr. Bernard O'Neill is the PR officer of the Irish Athletic Boxing Association and well-known in the boxing world as one of the biggest fan in our sport. Mr. Bernard O'Neill has got more than 10 years of experiences in the PR & Communication of boxing and he shared us his thoughts and opinions about Asia's boxing life.
"Following on from Rio 2016, where Uzbekistan topped the medals table ahead of Cuba and Kazakhstan finished 4th, Asia had a superb AIBA World Boxing Championships, with Uzbekistan and Kazakhstan finishing 2nd and 3rd in the medals table at Hamburg 2017 where India, Mongolia and South Korea also achieved podium places. They say that the league table does not lie in sport.
Likewise, Asia is one of the strongest continents, if not the strongest, continents on the road to the Tokyo 2020 Olympiad. Asia won 15 medals in Hamburg, 35% of the medals on offer and 33% of the medals at Rio 2016. The Asian Boxing Confederation has overseen this and nurtured this success and Asia has consistently proven itself to be a formidable boxing continent.
The hosting of the 2017 Asian Elite Championships in Tashkent, Uzbekistan was obviously a key tournament in regards to how a Championships of this importance, given that it was also doubling up as a qualifier for Hamburg 2017, should be organised and run efficiently. Once again, Uzbekistan and Kazakhstan dominated after claiming 17 of the medals on offer. India finished third. India also earned well-deserved accolades after hosting the AIBA World Women's Youth Boxing Championships in Guwahati. Team Ireland enjoyed the tournament tremendously, not only from a sporting perspective but from a cultural perspective, with the Irish staff reporting how friendly and efficient the organisers were and how much they enjoyed the overall experience.
I would see Asia as a formidable continent. Europe is aware that if one its athletes are drawn against Asia, particularly Kazakhstan, Uzbekistan, China, Mongolia, South Korea, Thailand or India, that they are going to be involved in a very competitive bout. Asia has also enjoyed tremendous success in the World Series of Boxing (WSB). Ireland's former Elite champion Eric Donovan, a European Elite medallist and multiple Irish Elite champion, believes that Kazakhstan gave his career a new lease of life when he boxed with the Astana Arlans and he made many friends in Central Asia. He said: "A season fighting in the World Series of Boxing for the Astana Arlans gave me a new lease of life in the ring. Living and training out in Kazakhstan with some great boxers opened up my eyes and it was great to be part of the group that won the WSB Team competition.
It is crucial that the 32nd Olympiad is seen to be fair and above board in relation to judging. Everyone involved in the sport is aware that there was a lot of damage done to the integrity of boxing at Rio 2016. AIBA is commendably addressing this through its various AIBA R&J courses throughout the world. It can be difficult for judges under the 10-point must scoring system, particularly if bouts are very close. But judging has to be seen to be open and transparent. Boxing has a proud Olympic legacy stretching back to 1904 in St Louis and has been an integral part of each Olympiad since. I would be confident that Tokyo 2020 will maintain that proud legacy.
The appeal of Mr. Serik Konakbayev to the global boxing fraternity, be that in Asia, the Americas, Europe or Oceania, is that those involved directly in the sport, namely the boxers, know that he was also a boxer and that he understands their concerns and anxieties. Mr. Konakbayev was a world-class Elite athlete; two Olympic and two European Elite medals speak for themselves and are tremendous achievements by any standard. Moreover, he also won his medals ostensibly representing Europe. In that regard, he is in a unique position as he is a bridge between Asia and Europe. His career inside and outside the ropes lends a tremendous dignity to our sport.," said the PR officer of the Irish Athletic Boxing Association Mr. Bernard O'Neill.