Mr. Abdullah Sattari – We are so thankful to Mr. Serik Konakbayev receiving this special award for our work in 2017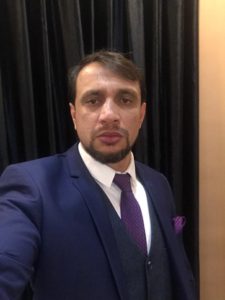 Mr. Abdullah Sattari is the President of the Afghanistan Boxing Federation who had a successful boxing career before his official jobs in their organization. The President of the Afghanistan Boxing Federation shared with us his thoughts about their new success, Mr. Serik Konakbayev's ASBC President Award for their work in 2017. This award was part of the Best of the Asians in 2017 project.
Mr. Abdullah Sattari began his boxing career at of age of 16 and competed in several international events including the Busan 2002 Asian Games. Following his General Secretary and CEO experiences, he was elected as President of the Afghanistan Boxing Federation in 2015 for a period of four years.
"We were so happy when we received the ASBC President's Award for our work in 2017 but we want more development in the upcoming years. We are planning to show the best image of Afghanistan's boxing and we know we are in the very beginning in the road to our main objectives and targets.
As a new developing boxing country our activities were good in 2017 but we want to develop all areas of the sport in Afghanistan next year. We could launch our Facebook page, hosted a historical AIBA 1-star Coach Course in Kabul, competed in a few international events and arranged some national competitions for our boxers in 2017.
Afghanistan Boxing Federation launched its strategic plans a few months ago and not only for 2018 but longer term as well. We are trying to build the ability of our boxers to get medals in the Asian events and bring some new methods to Afghanistan with the cooperation of the neighboring and other strong boxing countries.
A strong coach would be a great promotion for us to be one of the boxing power in Asian in the future. Cooperation with the international organizations and the Asian National Federations are our main plan. Sparring, training camps and friendship tournaments support our boxers to develop their experiences and techniques.
We have seen great development which was really appreciated and we believe we are able to raise these improvements with a great cooperation together with the Asian Boxing Confederation. We would like to say a great thank you for the Asian Boxing Confederation and especially our respective ASBC President Mr. Serik Konakbayev for presenting us such a great award for our work.
Afghanistan will be competing in the upcoming Indian Open Boxing Tournament which will be part of their preparation to the Jakarta 2018 Asian Games. The Indian Women's & Men's Open Boxing Tournament will be held in New Delhi, starting on January 28 and will be finished on February 1," said the President of the Afghanistan Boxing Federation Mr. Abdullah Sattari.