Kazakhstan and Kyrgyzstan are among the medallists in the strong Brandenburg Youth Cup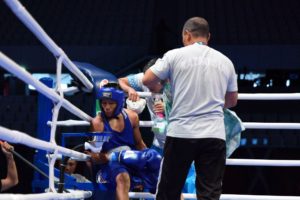 The important quarter-finals were held in the 24th edition of the Brandenburg Youth Cup in the city of Frankfurt an der Oder in Germany. Kazakhstan's and Kyrgyzstan's top youth boxers are using the event as preparation to the upcoming ASBC Asian Confederation Youth Boxing Championships and many of them advanced to the semi-finals.
The Brandenburg Youth Cup is a traditionally strong youth event in the whole world where the Asian boxers claimed plenty of medals and titles in the recent two and half decades. Russia, Ukraine, France, Germany, Denmark, Romania, Poland, Wales and many other top European nations are attending in the event but Argentina also sent talents to the event which is a highlight this week.
The women's youth boxers also started their campaigns in the second competition day and Kazakhstan's two talents won their fights in Frankfurt an der Oder. Moldir Toikova is a technician flyweight (51kg) boxer who defeated Germany's Sahika Bostan winning the bout by 4:1. Kazakhstan's middleweight (75kg) hope Milana Rudenko won her contest in the same way against Germany's Annemarie Schierle who came from a strong boxing family.
Kazakhstan's flyweight (52kg) ace Talgat Syrymbetov is member of the national team since 2016 and he had plenty of international competitions in the recent three years. Following those experiences, the 18-year-old boxer worked enough to beat Germany's Metouchela Lukoki in Frankfurt an der Oder.
Kazakhstan's ASBC Asian Junior Champion Biybars Zheksen was quarter-finalist in the Budapest 2018 AIBA Youth World Boxing Championships and he is spending his second year among the youth boxers now. The Kazakh talent claimed only bronze medal in the Bornemissza Memorial Tournament last month therefore he was motivated against France's George Melkumian on Day1 and continued his winning path beating Germany's Franklyn Dwomoh on Day2.
Kazakhstan's another boxer, who claimed gold medal in the Puerto Princesa 2017 ASBC Asian Confederation Junior Boxing Championships, Aitzhan Ashirkhan knocked out Lithuania's Nedas Gudomskas in the first competition day. The Kazakh lightweight (60kg) boxer had a stronger rival as second but he was able to use the best tactic against Russia's No.1 Tamerlan Ozdoev on Day2.
Following Muktarbek Ibraimov's success on Day1 another Kyrgyz boxer Nuradin Rustambek Uulu shined in the quarter-finals. The ASBC Asian Confederation Youth Boxing Championships bronze medallist Kyrgyz hope controlled his fight against Russia's Artem Smyrgarev. Rustambek Uulu felt the tempo and landed his jabs with perfect timing to beat his strong Russian opponent advancing to the last four of the welterweight (69kg).
Kazakhstan's ABSC Asian Junior Champion Maksut Kuandyk is their youth light heavyweight (81kg) No.1 this year who eliminated Germany's Calito Cumic on Day2. His teammate ASBC Asian Youth Champion and ASBC Asian Junior Champion Sagyndyk Togambay also defeated a favourite boxer Russia's Timur Mukhamedzianov and joined to the semi-finals of the heavyweight (91kg).
Don't forget you can keep up with all of the action, news, results and photos by following ASBC on Facebook and Instagram.
ASBC website: www.asbcnews.org
ASBC Facebook page: https://www.facebook.com/ASBC.Boxing/
ASBC Instagram page: https://www.instagram.com/asbc_official/