Erkinboyev triumphs in Uzbekistan Youth National Championships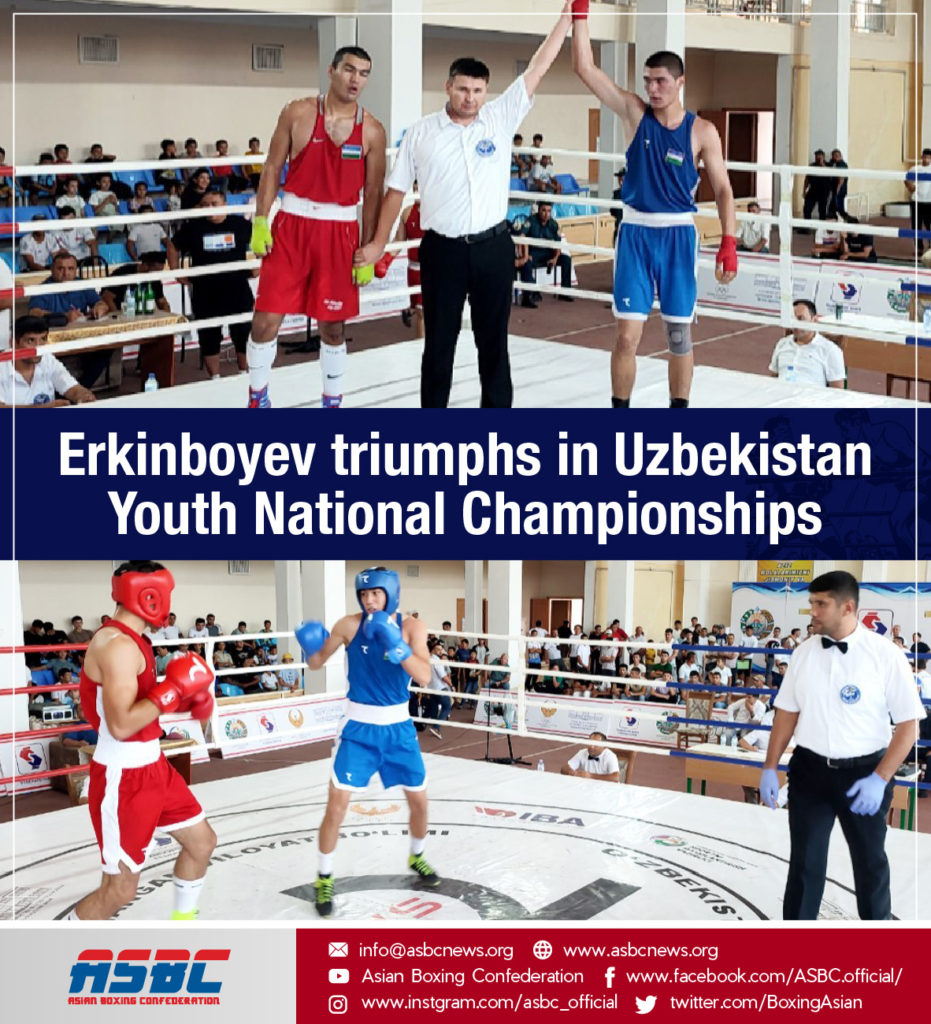 Reigning youth world champion Fazliddin Erkinboyev added another gold medal to his collection after emerging triumphant in the Uzbekistan Youth National Championships held in the city of Almalyk.
Erkinboyev, who is also a defending ASBC Asian youth titlist, proved too quick and too strong for Shamsiddin Tursunov as the Namangan pride cruised to a lopsided 5-0 victory in their middleweight (75kg) final match.
Former Asian junior winner Sardorbek Tursunov of Andizhan captured the national light heavyweight (80kg) title following his 5-0 decimation of Ferghana's Rakhmonjon Kodirov.
Khorezm's Boburbek Bobojonov, who won in the 2019 ASBC Asian Schoolboys Championships in Kuwait, eliminated fellow Asian schoolboys champ Umidullo Abdurasulov before battering Bukhara's Murodbek Bakhriddinov, 5-0, for the light welterweight (63.5kg) gold.
Other notable winners in the national youth tourney were 2022 ASBC Asian Youth Championships silver medalist Jamoliddin Kozokov of Andizhan (heavy-92kg) and Commonwealth of Independent States Junior Games titlist Sayat Ilyasov of Tashkent (light-60kg). Ilyasov eliminated the ASBC Asian Schoolboys Champion Farrukh Tulaganov in the semi-final of the lightweight (60kg) and continued his winning path against Asadbek Rajabov in the final.
The first winner was a boxer from the Tashkent region, Shakarboy Jurayev who defeated all of his rivals including Mukhammadgiyos Sobutkhanov in the final. Bukhara's Miralijon Mavlonov moved up one category and competed at the flyweight (51kg) but he had the experience to beat Anvarbek Jumaboyev in the second final of the event.
Tashkent region's Samandar Olimov had strong pedigree in the previous competitions and he accomplished his goal to win the bantamweight (54kg) against such strong rivals as ASBC Asian Schoolboys Champion Khumoyun Abdurasulov of Ferghana and Nodir Allaberganov of Tashkent.
Abdullokh Madaminov and CIS Junior Games winner Javokhir Koysinov were the favourites at the featherweight (57kg) but Shokhrukh Abdumalikov's strength dominated the category.
ASBC Asian Youth Champion Abdulaziz Abdurakhmonov of Andizhan was highly confident during his road to the final of the cruiserweight (86kg) but his compatriot from the same city, Khalimjon Mamasoliyev stopped him in the first round of the title contest.
A total of 234 boxers born in 2005 and 2006 competed in the event where several unexpected results happened.
The Uzbekistan Boxing Federation is looking to pick the finest pugs for the national team as it tries to sustain the gains from the IBA Youth World Championships and ASBC Asian Youth & Junior Championships last year.
List of the winners in the Uzbekistan Youth National Championships

48kg: Shakarboy Jurayev

51kg: Miralijon Mavlonov

54kg: Samandar Olimov

57kg: Shokhrukh Abdumalikov

60kg: Sayat Ilyasov

63.5kg: Boburbek Bobojonov

67kg: Mirzakamron Yunusov

71kg: Samandar Rakhimjonov

75kg: Fazliddin Erkinboyev

80kg: Sardorbek Tursunov

86kg: Khalimjon Mamasoliyev

92kg: Jamoliddin Kozokov

+92kg: Ravshanjon Soliyev
Don't forget you can keep up with all of the action, news, results and photos by following ASBC on Facebook and Instagram.
ASBC website: www.asbcnews.org
ASBC Facebook page: https://www.facebook.com/ASBC.Boxing/
ASBC Instagram page: https://www.instagram.com/asbc_official/
ASBC Twitter: https://www.twitter.com/BoxingAsian?s=08