ASBC medalists Tokhirov, Mirzakhalilov shine in Kostanay joust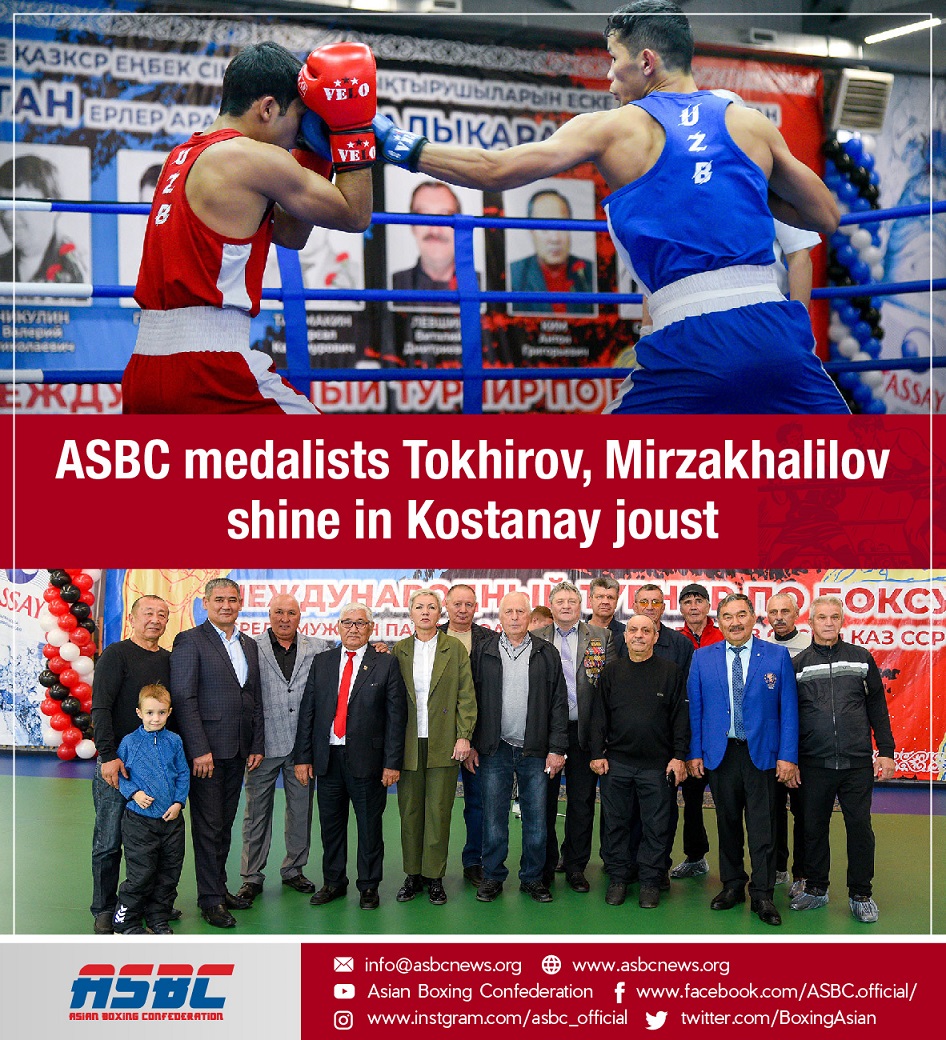 Asian youth medalists Nusratbek Tokhirov and Mirzabek Mirzakhalilov of Uzbekistan displayed their caliber en route to capturing gold medals in the Kostanay Coaches Memorial Tournament held recently in Kazakhstan.
The competition was staged in 11 male weight categories from the flyweight (51kg) up to the super heavyweight (+92kg) in Kostanay. Boxers who were born between 1982 and 2003 were eligible to attend in the Kostanay Coaches Tournament.
The Memories of Coaches of Kostanay Tournament was a new event in the boxing map in 2021 but powerful young talents and experienced boxers joined to compete there in Kazakhstan. Kostanay's last international event this year was the 22nd edition of the Aitenov Brothers Youth Tournament in July where 13 champions celebrated their gold medals.
Tokhirov, who was crowned champion in the 2019 ASBC Asian Junior Championships in Fujairah, United Arab Emirates, came through with an RSC victory against his final opponent in the heavyweight (92kg) division.
ASBC Asian Youth Championships Ulaanbaatar 2019 bronze winner Mirzakhalilov beat his fierce rivals Sodirbek Kamolmirzayev and Didar Torebekov to reign supreme in the featherweight (57kg) class.
Meanwhile, Kazakhstan's Youth World Championships veteran Karim Serkebayev eliminated experienced Uzbek bet Foziljon Abdumurodov in the semifinals then stopped Viktor Sikerin for the bantamweight (54kg) trophy.
Kazakhstan earned six titles while Uzbekistan took the other five golds in the traditional tilt that featured 11 weight categories for elite men boxers.
The Kostanay Coaches Tournament was organized to commemorate the legendary trainers from the USSR and Kazakhstan, namely Valeriy Nikulin, Vadim Gravitskiy, Mursal Tazhmakin, Vitaliy Levshin, Anton Kim and Sergey Skripnik.
List of winners in the Kostanay Coaches Memorial Tournament


51kg: Shodiyorjon Melikuziev, Uzbekistan

54kg: Karim Serkebayev, Kazakhstan


57kg: Mirzabek Mirzakhalilov, Uzbekistan

60kg: Daniyar Ramazan, Kazakhstan


63.5kg: Lazizbek Fattoyev, Uzbekistan

67kg: Mukhamedali Khordin, Kazakhstan

71kg: Alikhan Zhakupov, Kazakhstan

80kg: Suren Makaryan, Kazakhstan


86kg: Jurabek Toshtemirov, Uzbekistan


92kg: Nusratbek Tokhirov, Uzbekistan

+92kg: Nurmagomed Yusupov, Kazakhstan
Don't forget you can keep up with all of the action, news, results and photos by following ASBC on Facebook and Instagram.
ASBC website: www.asbcnews.org
ASBC Facebook page: https://www.facebook.com/ASBC.Boxing/
ASBC Instagram page: https://www.instagram.com/asbc_official/
ASBC Twitter: https://www.twitter.com/BoxingAsian?s=08