ASBC Heroes – Thailand's Youth Olympic Champion and ASBC Asian Youth Championships gold medallist Panpatchara Somnuek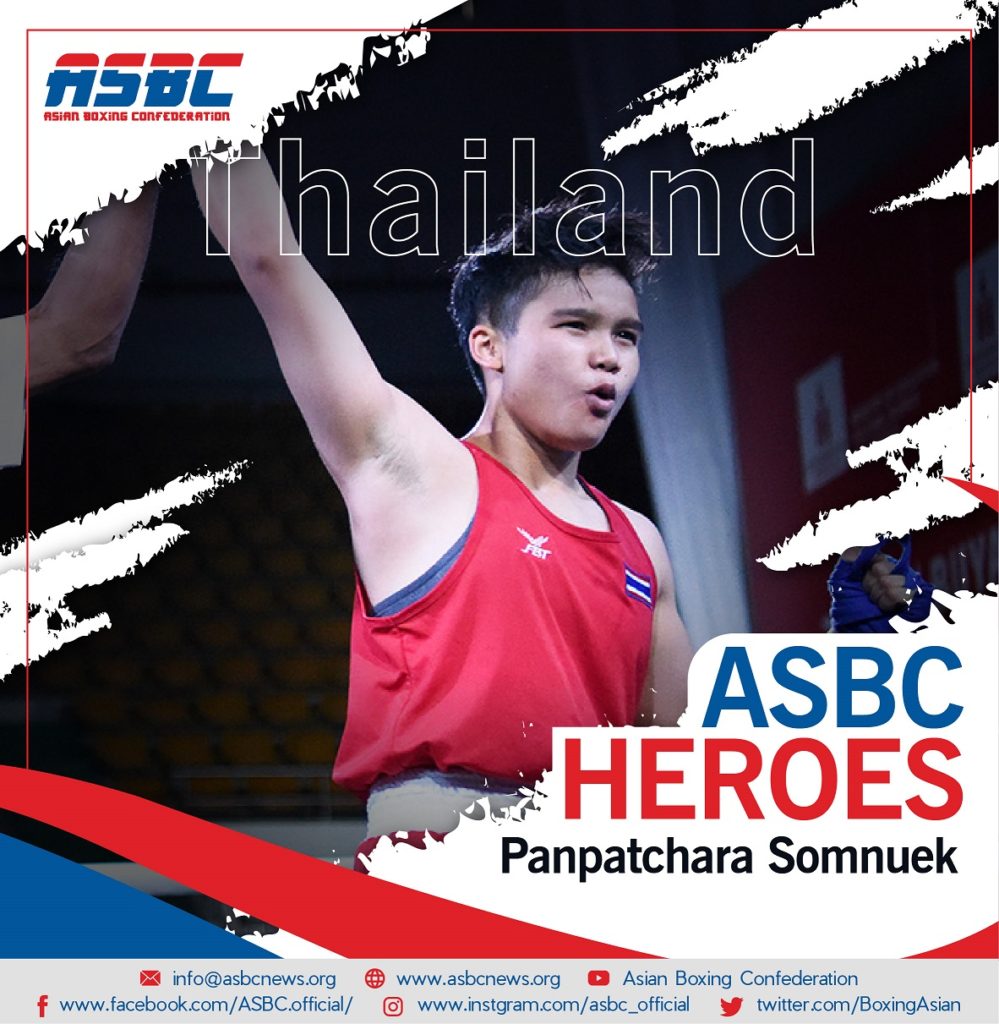 India's Panpatchara Somnuek won the title of the women's featherweight (57kg) at the Ulaanbaatar 2019 ASBC Asian Youth Boxing Championships which was her next top international success. Thailand's amazing female boxer is the defending Youth Olympic Games winner and after her next triumph in Ulaanbaatar, she is our ASBC Hero from 2019.
Panpatchara Somnuek was born in Roi Et Province on the 31st of May in 2001 and began her boxing campaigns at the age of 15. She trained in the Saraburi Province mostly with former Asian Games winner Jangphonak Parkpoom. She trains 30 hours every week to achieve top results and to follow her boxing idol's Olympic Champion Wijan Ponlid's boxing career. Near, which is her nickname, likes the computer games and her favourite food is the spicy minced pork which is a traditional Thai dish.
She was involved to the national team in 2017 and on her first international competition she claimed a valuable bronze medal. Somnuek eliminated India's AIBA Women's Youth World Champion Sakshi Choudhary in the quarter-finals of the 2018 ASBC Asian Women's Youth Boxing Championships and finally claimed bronze medal in Bangkok.
She reached the quarter-finals in the Budapest 2018 AIBA Women's Youth World Boxing Championships after beating Ireland's Dearbhla Rooney and Kazakhstan's Yerkezhan Dauletzhankyzy. Somnuek met in the last eight with Croatia's eventual silver medallist Nikolina Cacic who stopped her in a hectic fight.
Somnuek was in top form at the Buenos Aires 2018 Youth Olympic Games where she stopped Slovakia's three-time EUBC European Champion Jessica Triebelova and eliminated Ireland's Dearbhla Rooney during her road to the finals of the women's featherweight (57kg). The 17-year-old Thai talent was the favourite for the title following her two victories against the European rivals and she started strongly against Mexico's Jennifer Yazmin Carrillo in the final. Somnuek used her tough punches and well-built tactic to win the final and claimed Thailand's first ever gold medal in history of the Youth Olympic Games. Panpatchara Somnuek arrived to Ulaanbaatar as the main gold medal contender at the featherweight (57kg) in the 2019 ASBC Asian Youth Boxing Championships. The 18-year-old Thai boxer eliminated her best rival Mongolia's female No.1 Yesugen Oyuntsetseg in the semi-finals which was a world class battle between them. The Thai talent was the favourite in the finals against China's Gao Jingwen and she landed enough punches to take the lead in their contest. The Chinese boxer had good speed in the final but Somnuek caught her several times and achieved Thailand's first title in Ulaanbaatar.
Don't forget you can keep up with all of the action, news, results and photos by following ASBC on Facebook and Instagram.
ASBC website: www.asbcnews.org
ASBC Facebook page: https://www.facebook.com/ASBC.Boxing/
ASBC Instagram page: https://www.instagram.com/asbc_official/
ASBC Twitter page: https://www.twitter.com/BoxingAsian?s=08