The host Mongolians are ready to take gold medals in the upcoming ASBC Asian Youth Boxing Championships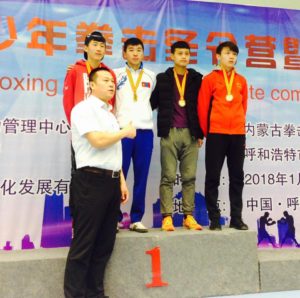 The ASBC Asian Confederation Youth Boxing Championships will be starting in Ulaanbaatar in the upcoming days and the host nation's squad is ready to achieve their best results in the history of the competition. Their best female hopes are Altanbek Khulan, Yesugen Oyuntsetseg and Ganzorig Badmaarag while their three top male youth boxers are Enkhzorigt Sukhbat, Enkhtur Tegshjargal and Tulga Oyunbaatar.
The Mongolian team trained hard in the recent months to prepare well to this local event which is the first Asian Championships in the country since 2012. Their last continental event in Ulaanbaatar was the ASBC Asian Confederation Women's Elite Boxing Championships seven years ago where the host country earned two gold medals. Their current youth national team is planning to repeat that performance in the front of the home crowd.
Almost all of the Mongolian team members have got already international experiences from various competitions which support to reach their goals in Ulaanbaatar. Nine Mongolian women boxers have been selected to attend in the ASBC Asian Youth Boxing Championships in Ulaanbaatar and their current squad contains high number of medal prospects.
Byeisyenbei Janargul has got Kazakh origins who won the title of the women's light flyweight (48kg) in the National Championships and received the right to attend in the ASBC Asian Youth Boxing Championships in Ulaanbaatar. Altanbek Khulan won already an international tournament in Kazakhstan and could be a strong option for the host nation at the women's flyweight (51kg).
Battur Zoljargal competed several national events in the recent four years and she collected altogether 47 bouts therefore she is aiming for a medal at the women's bantamweight (54kg). Yesugen Oyuntsetseg is the most experienced Mongolian female boxer who competed in various European tournaments this year to increase her experiences and after these bouts she is ready to do big things in Ulaanbaatar.
Otgonchuluun Batkhuu's pupil, a new lightweight (60kg) hope, Ganzorig Badmaarag is another Mongolian female hope who won already four national titles in spite of her age of 17. Erdenetsogt Namuun (69kg), four-time National Champion Tsolmonbaatar Namuun-Ursgal (75kg), Baatar Altanzaya (81kg) and Batbayar Margad-Erdene (+81kg) were also involved to the female squad of the host country.
One of the best Mongolian male hopes is Enkhzorigt Sukhbat who dominated his national events in the recent two years and attended also in the Puerto Princesa 2017 ASBC Asian Junior Boxing Championships. The 17-year-old southpaw was named among the gold medal contenders of the light flyweight (49kg) in Ulaanbaatar besides to his top Uzbek, Indian, Japanese and Kazakh opponents.
Bayarsaikhan Altantulga is also 17 as Sukhbat who competed international events in Kazakhstan, Kyrgyzstan and Philippines during his career and after 68 bouts in the past, he is among the medal favourites at the male flyweight (52kg). Enkhtur Tegshjargal competed already in the 2016 Children of Asia Games and since then he competed many international events including the 2018 AIBA Youth World Boxing Championships.
Mongolia's lightweight (60kg) hope will be a hard working talent, Tulga Oyunbaatar who has almost the same career road as Enkhtur Tegshjargal but his results are slightly better. The 18-year-old boxer's career highlight is a bronze medal from the Bangkok 2018 ASBC Asian Youth Boxing Championships therefore his objective to get a brighter one in Ulaanbaatar.
Mongolia's light welterweight (64kg) team member is Junior National Champion Jandos Askhar who has also Kazakh origins as Janargul. Youth National Champion Tsogsaikhan Luvaanjalbuu will be representing Mongolia at the welterweight (69kg) while two-time Youth National Champion Gantulga Batbayar (75kg) has already international experiences.
The Mongolian team in the ASBC Asian Youth Boxing Championships

Women's 48kg: Byeisyenbei Janargul

Women's 51kg: Altanbek Khulan

Women's 54kg: Battur Zoljargal

Women's 57kg: Yesugen Oyuntsetseg

Women's 60kg: Ganzorig Badmaarag

Women's 69kg: Erdenetsogt Namuun

Women's 75kg: Tsolmonbaatar Namuun-Ursgal

Women's 81kg: Baatar Altanzaya

Women's +81kg: Batbayar Margad-Erdene

Men's 49kg: Enkhzorigt Sukhbat

Men's 52kg: Bayarsaikhan Altantulga

Men's 56kg: Enkhtur Tegshjargal

Men's 60kg: Tulga Oyunbaatar

Men's 64kg: Jandos Askhar

Men's 69kg: Tsogsaikhan Luvaanjalbuu

Men's 75kg: Gantulga Batbayar
Don't forget you can keep up with all of the action, news, results and photos by following ASBC on Facebook and Instagram.
ASBC website: www.asbcnews.org
ASBC Facebook page: https://www.facebook.com/ASBC.Boxing/
ASBC Instagram page: https://www.instagram.com/asbc_official/