Mr. Anas Alotaiba and the whole ASBC management send their sincere condolences to Mongolia's boxer Mr. Enkhzorig Zorigtbaatar's family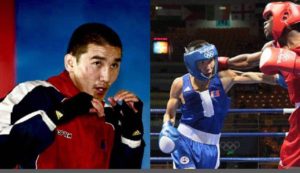 The President of the Asian Boxing Confederation and Vice-President of the International Boxing Association (AIBA) Mr. Anas Alotaiba, furthermore the whole ASBC management is sending their sincere condolences to Mongolia's boxer Mr. Enkhzorig Zorigtbaatar's family who passed away unexpectedly following his accident last night.
Mr. Enkhzorig Zorigtbaatar was born in Ulaanbaatar on February 27 in 1987 and began his boxing career very early as a young child. Zorigtbaatar achieved his first top result at the age of 17 in the Jeju 2014 AIBA Junior World Boxing Championships where he earned bronze medal at the flyweight (51kg).
Zorigtbaatar was quickly involved to the national elite team and not only attended in the Doha 2006 Asian Games but he claimed a silver medal at the age of 19 beating Chinese and Kazakh boxers during his road to the finals. The young Mongolian was in top shape at the 2007 Asian Men's Elite Boxing Championships in Ulaanbaatar and bagged his continental title at the featherweight (57kg).
The Mongolian boxer claimed silver medal in the 2nd Asian Olympic Qualification Tournament in Astana one year later and qualified for the Beijing 2008 Olympic Games. Zorigtbaatar won his opening bout in the Olympic Games against Morocco's Mehdi Ouatine and lost to only Cuba's Idel Torriente 10:9 in a hectic bout.
Zorigtbaatar took bronze medal in the Zhuhai 2009 ASBC Asian Confederation Boxing Championships and attended plenty of top events including two editions of the AIBA World Boxing Championships. He attended in his last international competition in 2015 and in he finished his career at the 2016 Mongolian National Boxing Championships.
Don't forget you can keep up with all of the action, news, results and photos by following ASBC on Facebook and Instagram.
ASBC website: www.asbcnews.org
ASBC Facebook page: https://www.facebook.com/ASBC.Boxing/
ASBC Instagram page: https://www.instagram.com/asbc_official/