Four Asian boxers won their contests in the opening day of the Yekaterinburg 2019 World Boxing Championships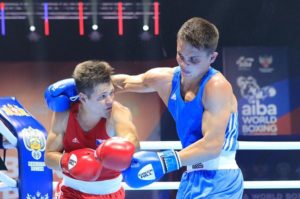 The AIBA World Boxing Championships for the men's elite boxers started with its first competition day in Yekaterinburg, Russia where the Opening Ceremony was also held. Seventeen bouts were in the schedule of Session 1 and 2 and on these combats four of our Asian hopes advanced to the next stage of the championship.
The Asian teams prepared strongly to the Yekaterinburg 2019 World Boxing Championships in the recent months after the Bangkok ASBC Asian Boxing Championships and our continent has got several medal and title favourites in Russia. Kazakhstan, Uzbekistan, India, China, Thailand, Philippines, Mongolia, Tajikistan, Jordan, South Korea, Kyrgyzstan and many other teams from our continent have got world class boxers.
Altogether 107 Asian elite male boxers are attending in the event from 21 nations: Afghanistan, China, India, Indonesia, Iran, Iraq, Japan, Jordan, Kazakhstan, South Korea, Kyrgyzstan, Mongolia, Philippines, Palestine, Qatar, Saudi Arabia, Tajikistan, Thailand, Turkmenistan, Chinese Taipei and Uzbekistan.
Uzbekistan's new team addition is Fanat Kakhramonov who arrived from Samarkand to Yekaterinburg to make surprises in the AIBA World Boxing Championships. The 23-year-old Uzbek middleweight (75kg) boxer claimed bronze medal in the Thailand Open International Boxing Tournament less than two months ago and his current skills were enough to eliminate Mongolia's Davaanyam Davaasuren.
The middleweight (75kg) boxers were in action in the opening day of the AIBA World Boxing Championships and another Asian hope has done superb actions and make a small surprise in Yekaterinburg. China's Xinjiang-based Tuohetaerbieke Tanglatihan used his height and strength to beat a strong European opponent, Scotland's Sean Lazzerini who is a well-known name in the international stage since 2015.
A hectic Asian battle was also held in the first day of the competition when Iran's ASBC Asian Boxing Championships bronze medallist Seyed Shahin Mousavi met with Chinese Taipei's 21-year-old Kan Chia Wei. The Iranian was taller than his rival and tried to keep his safest distance from the first seconds but his stamina was also strong today. The powerful Kan was not able to use his close distance punches and the Iranian advanced to the next stage.
Philippines' Eumir Felix Marcial was AIBA Junior World Champion in 2011 and since then he achieved several medals as an elite boxer. The Jakarta 2018 Asian Games bronze medallist Filipino followed his strong tactic against Ecuador's Bryan Angulo and as fourth boxer from our continent, joined to the next preliminary round.
Don't forget you can keep up with all of the action, news, results and photos by following ASBC on Facebook and Instagram.
ASBC website: www.asbcnews.org
ASBC Facebook page: https://www.facebook.com/ASBC.Boxing/
ASBC Instagram page: https://www.instagram.com/asbc_official/