Daily Report on Asian U22 Championship 2023 Bangkok – Day 7 – Uzbekistan, Thailand, Kazakhstan and Mongolia shared the women's gold medals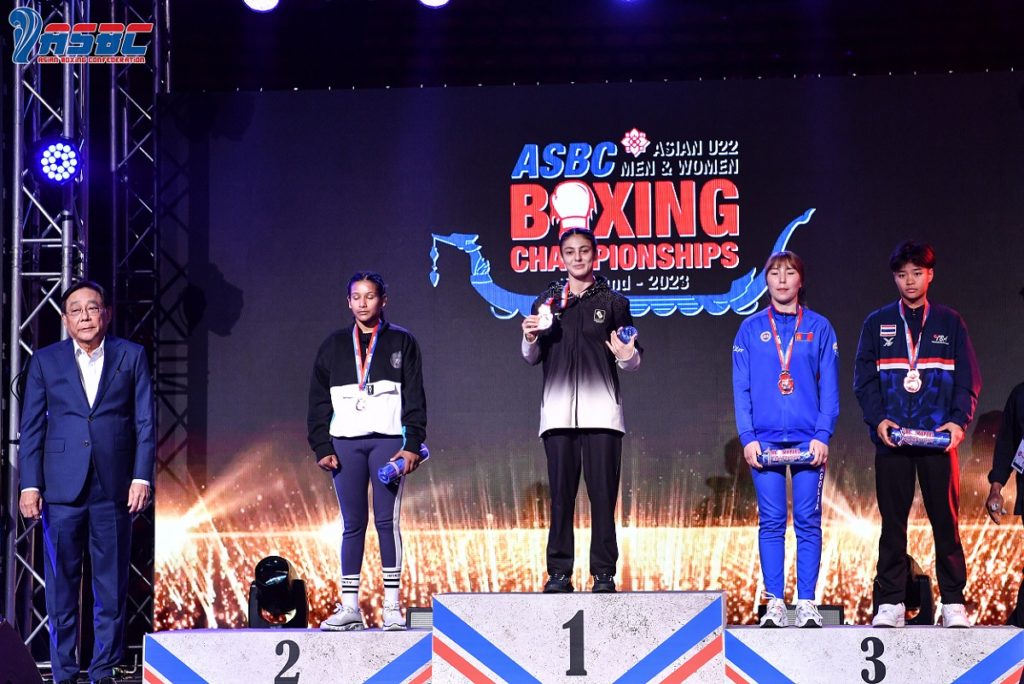 Uzbekistan dominated the women's division of the ASBC Asian U22 Boxing Championships 2023, capturing five of the 11 gold medals on Wednesday at the Huamark Indoor Stadium in Bangkok, Thailand.
Host nation Thailand came second with three golds, Kazakhstan followed suit with two while Mongolia nabbed the other one.
Here are the results on Day 7 featuring the women's finals:
The 19-year-old super talented Sabina Bobukolova and Farzona Fozilova defended their thrones in the light flyweight (50kg) and minimumweight (48kg) classes, respectively, to spark Uzbekistan's golden performance.
Bobukolova bagged her fourth Asian title after battering Vietnam's Nguyen Thi Ngoc Tran, 5-0, while Fozilova subdued Nepal's Susma Tamang with the same decision.
Former youth world champion Nigina Uktamova turned her silver last year into gold, hacking out a 5-0 rout over China's Feng Guiyin in bantamweight (54kg).
Multiple Asian winner Feruza Kazakova crushed China's Tang Dashuang, 5-0, in flyweight (52kg) even as reigning Asian elite titlist Navbakhor Khamidova clobbered Mongolia's Myagmarsuren Tsetsegdari, 5-0, in welterweight (66kg) to punctuate Uzbekistan's campaign.
Tokyo Olympics and ASBC Asian Youth Champion Baison Manikon capped Thailand's haul as she mauled Uzbekistan's Sokhiba Ruzmetova, 5-0, in middleweight (75kg). Manikon controlled all of the three roundswith left-handed jabs and she won their final unanimously, taking her second Asian title after 2019.
Youth Olympics 2018 Champion Thananya Somnuek dethroned Mongolia's Asian elite winner, 5-0, in light welterweight (63kg) while Porntip Buapa beat another Mongolian in Nomin-Erdene Tugsjargal, 4-1, in lightweight (60kg).
Zhasmin Kizatova and Gulsaya Yerzhan delivered the golds for Kazakhstan after posting split decision wins against Uzbekistan's three-time ASBC Champion Aziza Zokirova in light middleweight (70kg) and Thailand's Pornnipa Chutee in light heavyweight (81kg). Battur Zoljargal handed Mongolia its gold with a split decision stunner over Uzbekistan's 2021 ASBC Asian Elite Champion Sitora Turdibekova at the featherweight (57kg). The third round was the decisive between them when the Mongolian looked slightly better and she earned her first big title in her boxing career.
Don't forget you can keep up with all of the action, news, results and photos by following ASBC on Facebook and Instagram.
ASBC website: www.asbcnews.org
ASBC Facebook page: https://www.facebook.com/ASBC.Boxing/
ASBC Instagram page: https://www.instagram.com/asbc_official/
ASBC Twitter: https://www.twitter.com/BoxingAsian?s=08