Daily Report on Asian U22 Championship 2023 Bangkok – Day 5 – Historic victories for Nepal and Vietnam in the women's semi-finals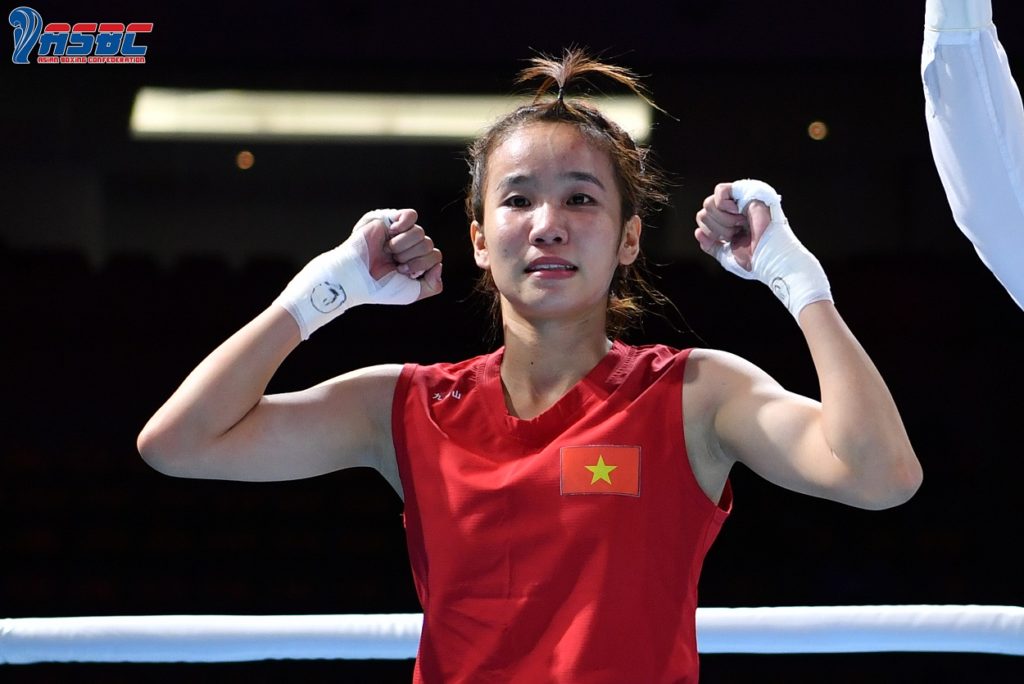 The women's semifinals of the ASBC Asian U22 Boxing Championship 2023 transpired on the fifth day of competition with 19 bouts at the Huamark Indoor in Bangkok, Thailand.
Susma Tamang and Nguyen Thi Ngoc delivered historic feats for Nepal and Vietnam, respectively. Boxers from Uzbekistan, Kazakhstan, China, Mongolia and host Thailand also had boxers making it to the gold medal round.
Cambodia, China, Indonesia, Iraq, Kazakhstan, Kuwait, Kyrgyzstan, Laos, Malaysia, Mongolia, Nepal, Pakistan, Philippines, Saudi Arabia, Singapore, Sri Lanka, Tajikistan, host Thailand, Uzbekistan, and Vietnam are the participating 20 countries in Bangkok.
Here are the highlights from Day 5:
The Youth World Championship 2021 quarterfinalist Susma Tamang emerged as Nepal's first-ever ASBC finalist after hacking out an RSC win against Mongolia's Janarguli Byeisyenbyei in the third round of their minimumweight (48kg) contest.
Nguyen Thi Ngoc Tran, a youth world bronze medalist in 2021, also posted a third-round stoppage over Kazakhstan's Moldir Toikova in light flyweight (50kg) to become Vietnam's first Asian U22 finalist.
Uzbekistan's former youth world champion Nigina Uktamova routed Kazakhstan's Anel Sakysh, 5-0, in bantamweight (54kg) while Farzona Fozilova remained on the hunt for a back-to-back title in minimumweight with a 5-0 beatdown of Thailand's Thipsatcha Yodwaree.
Uzbekistan's ASBC Asian U22 Champion 19-year-old Sabina Bobokulova was patient against Singapore's Wann Chee Wai Kei and she wanted to box through the three rounds in Bangkok. The Uzbek light flyweight (50kg) boxer controlled all of the three rounds and managed her second U22 final within one year.
Her teammate, Feruza Kazakova is another strong hope from the 2003 age group but she had a stronger rival than Bobokulova, Vietnam's Nguyen Thi Hoi. Kazakova was not enough shape in the first round but she stepped into the gas in the second and turned back the fight in their flyweight (52kg) meeting.
Mongolia's Ganzorig Badmaarag also kept her title-retention hopes alive by fending off Kazakhstan's ex-Asian junior titlist Nazerke Serik, 4-1, in light welterweight (63.5kg). Mongolia's Nomin-Erdene Tugsjargal earned a surprise silver medal at the ASBC Asian Elite Boxing Championships in Amman two months ago and the 19-year-old boxer followed his winning path in Bangkok against Vietnam's Nguyen Huyen Tran.
China's newcomers Tang Dashuang and Feng Guiyin cruised to the gold medal bouts as they eliminated Mongolia's Altanbek Khulan in flyweight (52kg) and Indonesia's Nabila Maharani in bantamweight, respectively.
Kazakhstan's World Championships veteran Gulsaya Yerzhan floored Nepal's Trisha Jebegu in the first round before pulling off a 5-0 romp in light heavyweight (81kg).
Thailand's Porntip Buapa landed three-times more shots than Kazakhstan's Shakhnaz Issayeva and the referee confirmed her RSC success in the second round of the lightweight (60kg) semi-final. Thananya Somnuek had the same pathway as a youth boxer as Porntip Buapa and she was too strong for Uzbekistan's Ziyoda Yarashova at the welterweight (66kg). Thailand's Tokyo Olympian and former Asian youth champion Baison Manikon showed her prowess in front of the home crowd after forcing a second-round stoppage against Kazakhstan's Dana Diday in middleweight (75kg).
Don't forget you can keep up with all of the action, news, results and photos by following ASBC on Facebook and Instagram.
ASBC website: www.asbcnews.org
ASBC Facebook page: https://www.facebook.com/ASBC.Boxing/
ASBC Instagram page: https://www.instagram.com/asbc_official/
ASBC Twitter: https://www.twitter.com/BoxingAsian?s=08