ASBC President Mr. Pichai Chunhavajira sends his best wishes to the Bangladesh Boxing Association on their Independence Day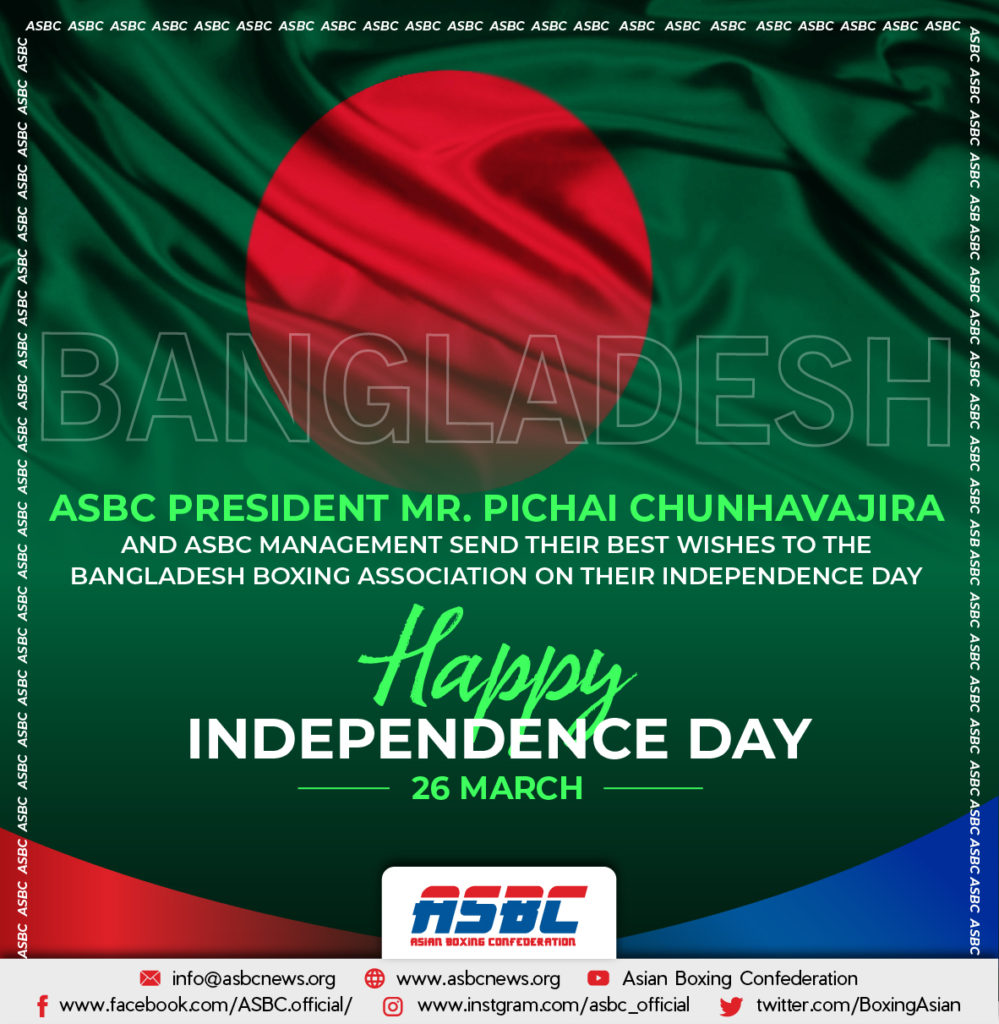 The President of the Asian Boxing Confederation Mr. Pichai Chunhavajira, furthermore the whole ASBC management are sending their best wishes to the Bangladesh Boxing Association and their whole Boxing Family during their Independence Day.
The Independence Day of Bangladesh celebrates on March 26 every year which is a national public holiday throughout the country. The Independence Day commemorates the country's declaration of independence from Pakistan in 1971. Flag hoisting, parades, award ceremonies, patriotic song singings, speeches of the President and the Prime Minister, furthermore cultural festivals are common in the Independence Day.
Following their independence, Bangladesh competed at the very first time in the Asian Boxing Championships in 1977 which edition was held in Jakarta, Indonesia. Bangladesh Boxing Federation sent eight boxers to the Indonesian capital and among them Abdul Halim and Abdur Rauf Khan were able to get bronze medals in 1977. Their valuable two medals were Bangladesh's first podium places in the Asian Boxing Championships.
After his impressive gold at the 1985 South Asian Games, Mosharraf Hossain claimed their first medal in the history of the boxing events of the Asian Games in 1986. That bronze was Bangladesh's first ever medal in any sports during the Asian Games and their lone one in the Seoul 1986 edition.
Bangladesh's capital Dhaka hosted the South Asian Games three-times in the past, firstly in 1985, secondly in 1993 and finally in 2010. Their boxers claimed one gold in 1985, another title which took by Moazzamul Haque at the flyweight (51kg) in the 1993 edition. Their highlight was the 2010 edition of the South Asian Games where the country was able to get two gold medals and a further silver in Dhaka.
Bangladesh sent boxers to the CISM World Military Boxing Championships in Moscow, Russia on September 2021 which was their comeback to the international stage during the Covid-19 period. Bangladesh is planning to send boxers to the 2022 editions of the Commonwealth Games and Asian Games later this year.
Don't forget you can keep up with all of the action, news, results and photos by following ASBC on Facebook and Instagram.
ASBC website: www.asbcnews.org
ASBC Facebook page: https://www.facebook.com/ASBC.Official/
ASBC Instagram page: https://www.instagram.com/asbc_official/
ASBC Twitter page: https://www.twitter.com/BoxingAsian?s=0