ASBC Heroes – Uzbekistan's super talented Khumoyunmirzo Abdurasulov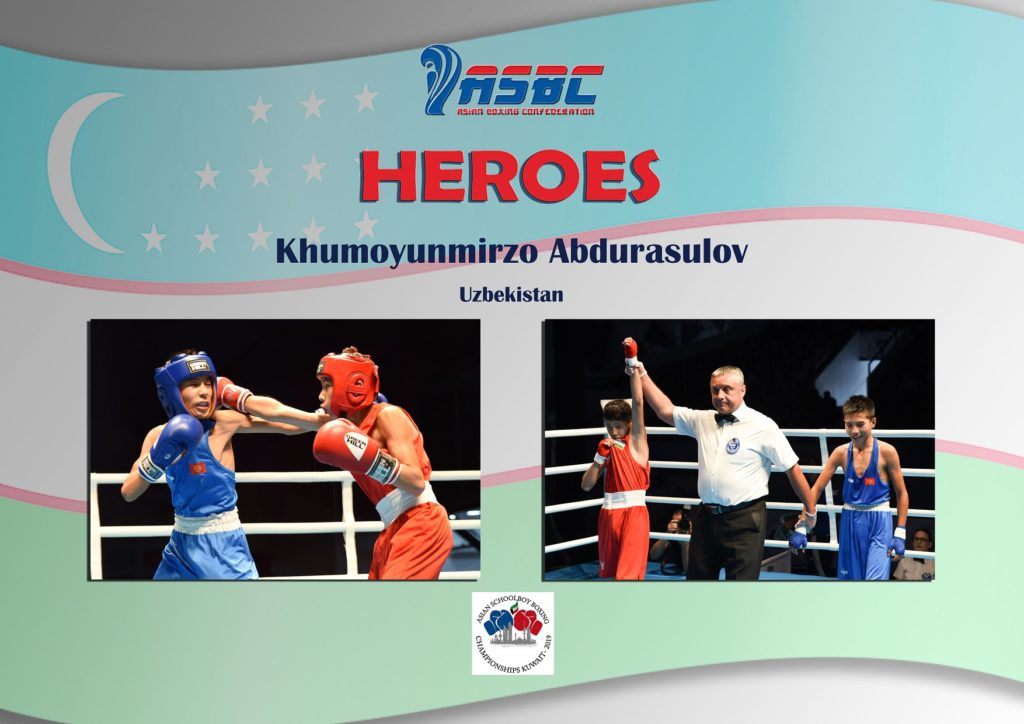 Khumoyunmirzo Abdurasulov was one of the ASBC Heroes in 2019 who could be one of the future hopes of our continent. The 15-year-old Uzbek boxer amazed in the Kuwait City 2019 ASBC Asian Schoolboys Boxing Championships where he won the first historical gold medal of the event and continued his winning path also in 2020.
Khumoyunmirzo Abdurasulov was born in 2005 and the Ferghana-based boxer impressed first in their 2019 edition of the Uzbekistan Schoolboys Boxing Championships. Abdurasulov defeated a local boxer from Termez, Ashraf Ismoilov in the final of the 36kg weight class in their National Championships. He won his first ever international tournament the Zirve Children Championships in Baku on May 2019.
Abdurasulov was one of the top Uzbek hopes at the Kuwait City 2019 ASBC Asian Schoolboys Boxing Championships. He defeated Kazakhstan's Pavel Tokarev in the quarter-finals and Turkmenistan's Daniyar Rozmetov in the semi-finals of the competition. The Uzbek boxer met in the final with Kyrgyzstan's Bekzat Ergeshov in Kuwait City. Abdurasulov was hard target for the Kyrgyz boxer who could not catch him in the ring therefore Uzbekistan claimed the historical first gold medal in the ASBC Asian Schoolboys Boxing Championships. Altogether 150 boxers from 21 nations competed for the medals and titles in Kuwait City's Shaikh Al-Abdullah Sports Complex.
The Uzbekistan International Junior Boxing Tournament started the year of 2020 in their capital city of Tashkent where Abdurasulov proved his best once again as a junior talent. The first gold medal of the Uzbekistan International Junior Tournament was achieved by Khumoyunmirzo Abdurasulov who defeated his teammate Javokhir Koysinov in the final of the 42kg weight class on January 2020.
Don't forget you can keep up with all of the action, news, results and photos by following ASBC on Facebook and Instagram.
ASBC website: www.asbcnews.org
ASBC Facebook page: https://www.facebook.com/ASBC.Boxing/
ASBC Instagram page: https://www.instagram.com/asbc_official/